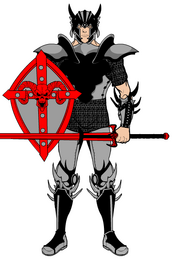 A great fighter 
Battle Skills
Edit
Dark force: Enemies within range change allegiance for 1 minute
Demonic spin:Spins around a lot in circles.
High-powered dragon bolt: Powerful blast in a straight line
Passive Skills
Edit
Counter: Damage taken is given back to the enemy
Heroic charge: Allies get a boost in attack and defence
Delta uses the weapon Hades Greatform
How to Obtain
Edit
Needs more content ie:skills, bio, etc.
Ad blocker interference detected!
Wikia is a free-to-use site that makes money from advertising. We have a modified experience for viewers using ad blockers

Wikia is not accessible if you've made further modifications. Remove the custom ad blocker rule(s) and the page will load as expected.